Spotfire as the Automation Brain
TIBCO Spotfire as the Automation Brain
Many Enterprises Behaim works with have home grown applications and business processes handling large sets of critical production data that are core to their business. It is the norm these days that this critical data is exchanged with an internal or external trading partner / customer and your on-premise applications; making the uptime of your current production environment of the utmost importance.
Behaim has come up with a cloud solution that automates your core homegrown business critical processes and doesn't inhibit your existing production environments. The main components of this cloud solution are: Container Automation and Analytics / Data Wrangling / Control.
Container Automation
TIBCO BusinessWorksTM Container Edition – which provides an integration solution that is easy-to-build and cloud-native.
Analytics / Data Wrangling / Control
TIBCO SpotfireⓇ – provides cloud enabled data wrangling, deep analytics, and human interfaces for data control.
The conceptual solution architecture of Behaim's solution is simple and straightforward, and that's what makes it so strong, successful, and repeatable for Behaim's customers.
To not interfere with the Customer's current production process, the Customer's production (or pre-production) application data is loaded into a cloud environment set up by Behaim with automated scripts. There, Behaim also installs and configures TIBCO's container automation and data analysis tool. Behaim's smart solution contains tailor-made rule sets that check the data automatically against the Customer's business requirements. After the checks are applied, and manually validated if required, the Customer's data is then updated in the cloud leading to a "clean data set" which can then be applied back to the on-premise applications.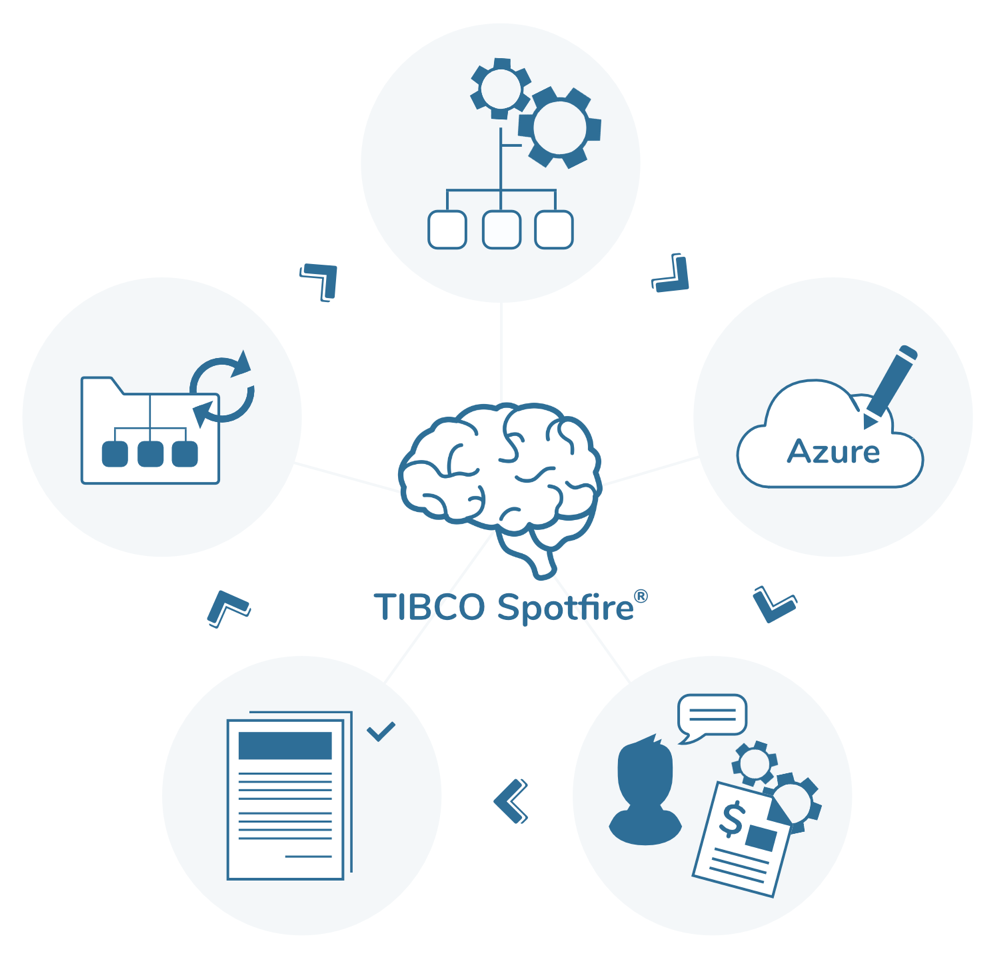 The description of each step in Behaim's solution starts at 12 o'clock (on the top) and works its way clockwise. Starting at the top circle tile:
On-premise customer applications produce and manipulate defined data sets.
Then TIBCO loads production data from on-premise applications to Azure (or any cloud) environment
And applies rule sets on the data. The rule checks are grouped into rulesets based on the customers requirements (e.g. different rulesets for different clients, branches etc.) and are fully extendable
Based on rule check the data is corrected
And then updated back in on-premise applications
And what is the Spotfire's role actually? Spotfire's advanced data analytics and modeling techniques are used to detect patterns and anomalies in the data. The rules are then defined based on the Spotfire's smart analysis outputs and expert knowledge.
Besides that, Spotfire's API allows us to utilize the Spotfire dashboards to monitor and also affect business processes when required. Need more details? Feel free to ask for a discussion.
Customer Benefits Achieved
Human headcount reduction
Eliminate human mistakes / issues caused by incorrect data
Standardized and Automated core internal processes
Cleaner Organizational Production data